Editor's Letter - Feather in Her Hat
by Kevin Kaminski, Group Editor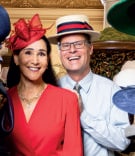 The first time I had an actual conversation with Rita Case, last summer at a Broward County charity event, she handed me her business card and told me to call her when I'm in the market for a new car. Not that I should have expected anything less from the CEO of Rick Case Automotive Group.
But what struck me that evening—beyond the bright red formal fascinator that adorned her head, complemented her dress and lit up the room—was how quickly she charmed not only me but everyone with whom she spoke. I knew that her husband, Rick, had died in 2020 from cancer. And I had met her daughter, Raquel, who elegantly graced our cover as part of our annual philanthropy issue more than a year ago.
Certainly, it's no secret that Rita's award-winning automotive group has 14 dealerships in South Florida and Atlanta. And yes, their charitable footprint has made a difference in the lives of countless individuals at organizations like Boys & Girls Clubs of Broward. But there had to be so much more to this dynamic woman who, working side-by-side with Rick, had driven her company upward and upward into rarified automotive air?
Thanks to the detail-rich storytelling of writer Nick Moschella, Lifestyle readers have a riveting glimpse into the remarkable journey of Rita Case. You'll learn about her need for speed as a teenager— both on the ground and in the air. You'll learn how she impressed car dealers from around the country with her automotive and business know-how—at age 22.
And you'll discover the real reason why her name is synonymous with the most fashionable hats in town. In addition, we'll take you into the kitchen for expert insights from some of the top chefs participating in this year's South Beach Wine & Food Festival—including celebrity chef and Miami resident Donatella Arpaia, whose best-selling restaurant story is adding two new chapters in Coral Gables with the debuts of Noma Beach at Redfish and Forte.
You'll also meet the innovators at fine-dining establishments in Miami and Fort Lauderdale who've helped to stamp South Florida as a culinary destination. All four—Cesar Zapata of Phuc Yea, Mika Leon of Caja Caliente, Paula DaSilva of Burlock Coast and Timon Balloo of The Katherine—infuse their delicious work with global influences from their past.
The past continues to inform the present in Rita Case's life. She regaled the Lifestyle creative team on a sun-soaked afternoon at her home in Hillsboro Beach with stories about the life she enjoyed with her beloved husband, her passion for the automotive business—and the more than 250 hats she owns, which is a story unto itself as you'll soon find out.
---
The Road Less Traveled
A Poignant Chapter In Her Groundbreaking Automotive Career, Following The Death Of Her Beloved Husband, Prompts Rita Case To Do What She Does Best—Wear Multiple Hats.
By Nick Moschella
Photography By Eduardo Schneider
Creative Direction By Melanie Geronemus Smit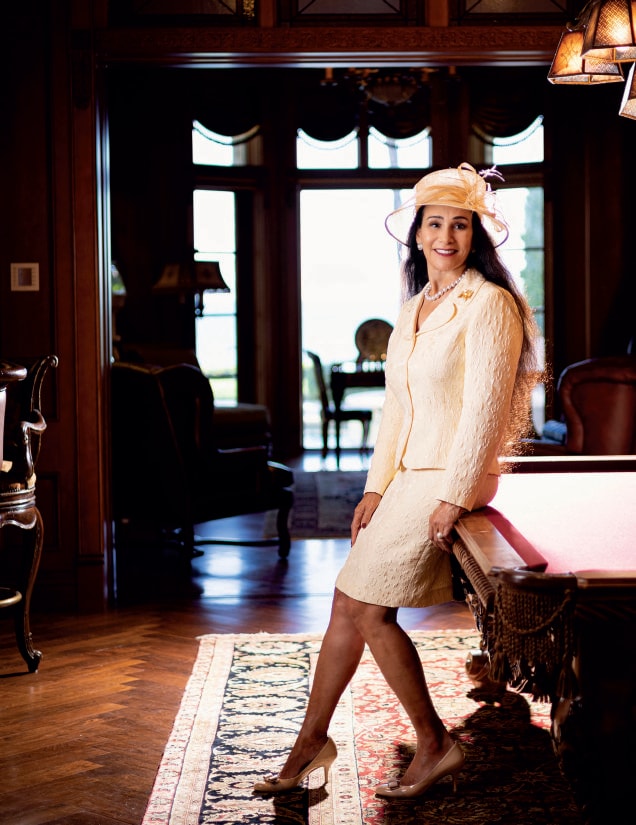 It's A Brilliant "Greeting From Sunny Florida" Postcard Morning, And Rita Case, Queen Of The Rick Case Automotive Group Empire, Is Humming Along Like A Turbocharged Engine.
As usual, she's dressed to kill in any boardroom: sleek skirt and jacket. Power pumps. And her trademark hat. Today's choice, a classy pink pillbox number, is plucked from her collection of more than 250. She welcomes a guest to corporate headquarters at Rick Case Kia, hard by the Sawgrass Expressway, and immediately launches into a tour of the lobby and hallways filled with trophies and plaques honoring Rita and her late husband for their many achievements in the auto industry and devoted work in charities. The conference room glitters with more awards and testimonials, earned through 60 years in the business and 40 years of marriage. When it comes to shiny hardware accolades, the Case collection makes the New York Yankees' haul look like it could be stored in an overhead bin.
Rita Case smoothly slipped into the driver's seat of Rick Case Automotive Group as CEO and president after her husband, an automotive legend, died of cancer in September 2020. Truth is, she always had a hand firmly gripping the wheel. "We had an amazing business relationship," Rita, 67, says. "Rick knew how he wanted it done, and he told me to get it done." Given her day-to-day role running the operational side of the 14 dealerships in South Florida and Atlanta, Rita was surprised at some of the reaction from the public after Rick died. A sort of "Poor, Rita. Whatever will she do now?"
Some saw Rita as the dutiful and devoted wife alongside the ultimate entrepreneurial husband in TV commercials. Everyone in the business, including Rick Case dealership general managers, knew better. Still, her first mission was to visit every general manager in person and pledge her commitment to the company. "I told them, 'We're not selling,'" Rita says. "I told them that they could count on me. I said, 'We are going to find ways to fill in for all the holes that Rick has left. It's a lot, but don't worry. Keep selling cars the way he taught you. Keep running your business the way he taught you. Keep treating customers as your best friends the way he taught you.'" One thing Rita Case wasn't worried about: Rita Case.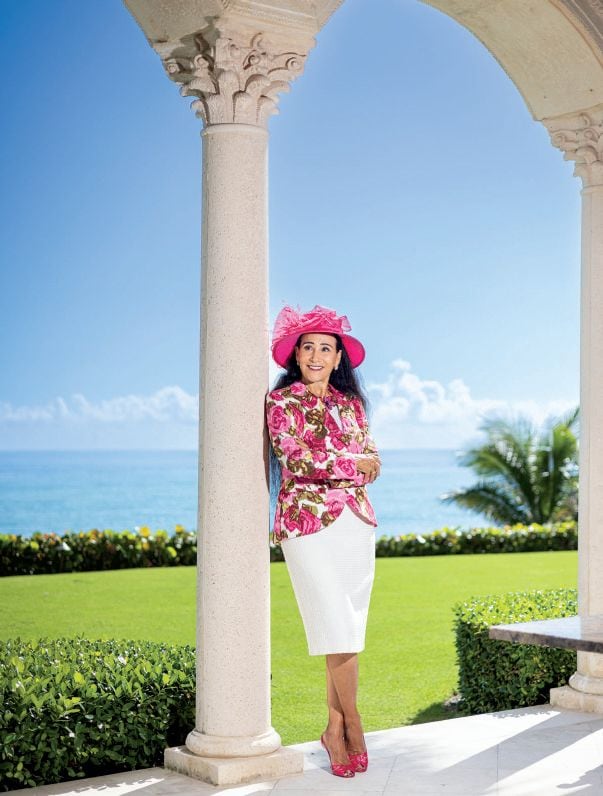 THE CEO: Rita Case oversees an automotive empire with 14 dealerships in South Florida and Georgia.

Like Mother, Like Daughter
If they measured gumption by the gallon, Rita could circle the planet without a fill-up. Her ambition and energy has always been fueled by motivation from her mother, Lori Manly, who at 90 still stops by the Santa Rosa, Calif., dealership she opened in 1970 with her late husband, Bill, as the first Honda auto dealer in the United States. "My mom is amazing," Rita says, beaming like a schoolgirl whose mother just interrupted first-period math class with a tray of freshly baked cookies. "From the moment I can remember, she always was doing things that nobody can believe." Lori Manly raced motorcycles, piloted vintage planes with her husband, competed in ice skating and gymnastics, performed in ballet and at 15 modeled for a local department store. The Manlys owned a motorcycle sales and repair shop during Rita's childhood and, unlike her two brothers and sister, she took a keen interest in the business. By age 8, she was sweeping floors, answering phones and polishing bikes. At 16, she obtained two licenses—driver's and pilot's. Like a chip off the old hubcap, she also was racing dirt bikes, competing in gymnastics and playing a variety of other sports. In 1968, when Honda asked California dealers who had been selling their motorcycles if they were interested in pioneering their venture into U.S. auto sales, the Manlys bought in. Two years later, their teenaged daughter was introducing curious but skeptical motorcycle customers to the tiny foreign cars sitting in a makeshift showroom. "No one wanted to buy this car," Rita recalls. "They'd say, "Oh, my God. It's so small. Is it safe?'"
Rita was their test driver, tooling around town in what she describes as an "air-cooled, 600cc tin can with two seats." "Some bikes had larger engines," she says. Her selling points leading to the first Honda automobile purchase in the country were gas mileage and maneuverability alongside the boxy, two-ton gas-guzzlers of the day. One thing Rita was sold on—her passion for the auto business and her desire and determination to take over her family's dealership. Her father didn't get it. For one thing, he told her, "This is really for guys. Men are the ones who are car dealers. Let your brothers do it." Rita revved her engine in reply. "Why? I can be better than them." Lori Manly was all in for her daughter. "You can do it," she told Rita. "But you have to be the best. If you're going to be a woman in this business, you have to be the smartest one in the room."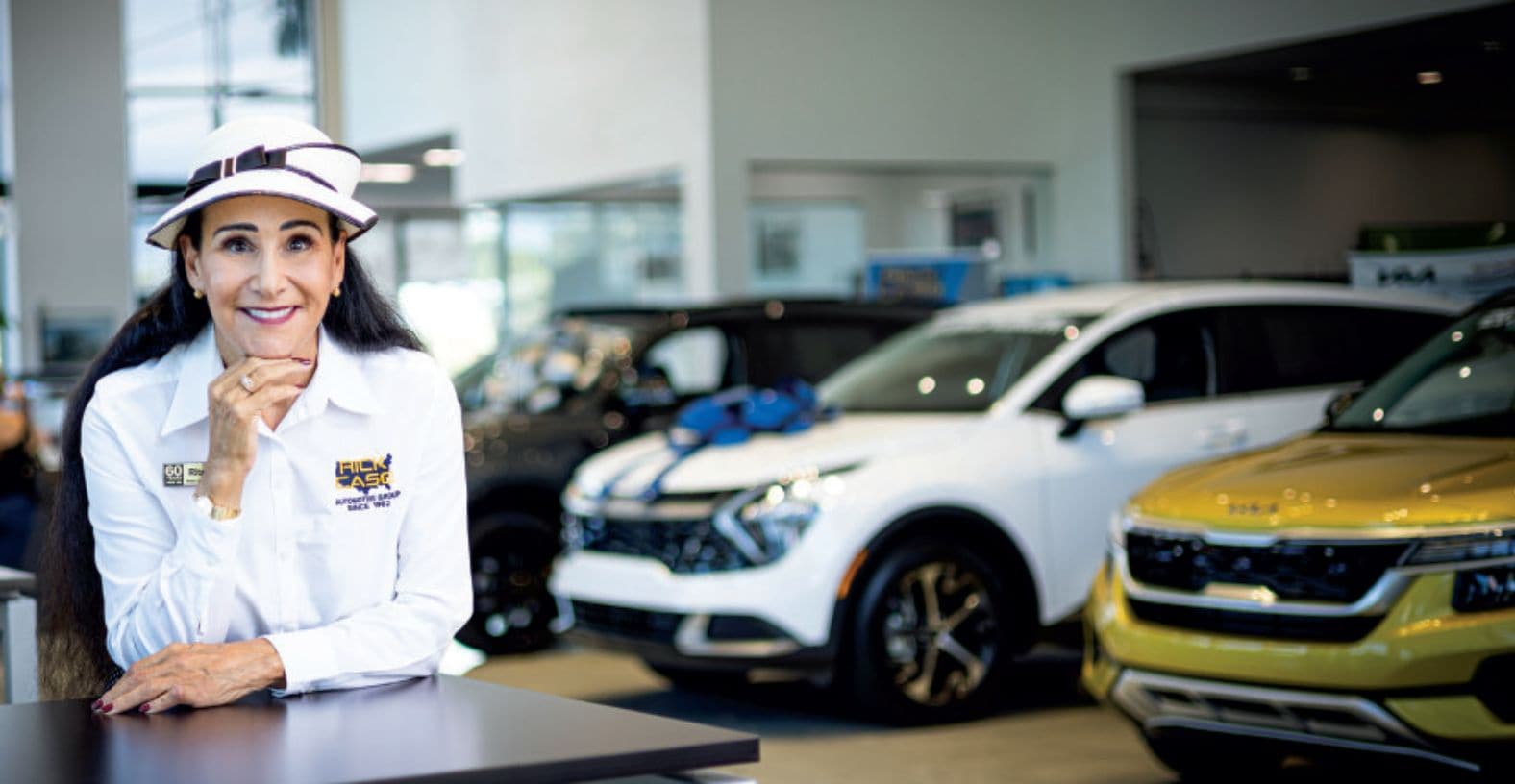 THE PHILANTHROPIST: The charitable boards and committees on which Rtia has served, along with Rick Case Automotive Group's own initiatives, have provided invaluable resources for organizations like Boys & Girls Clubs of Broward County, Habitat for Humanity, Feeding South Florida—and countless other nonprofits.
Dealer's Choice
The NADA's 20 Group program brings 20 dealers together for several days of brainstorming. Rita managed to round up 18 dealers to meet in Hawaii to talk about Honda cars, including Rick Case, who had made a name for himself with innovative, wacky and lucrative sales promotions at his dealerships in Cleveland and Akron. At 22, she was the youngest in attendance and the only woman. "I stood out and he stood out," Rita says. "I stood out because I didn't have any fear. I was a small-town girl in the room with people from Chicago, St. Louis, Cleveland and Dallas. I said, 'Guys, I put this deal together because I need to learn the car business, and I'm asking all of you to help me.'" She arrived prepared because she remembered her mother's strong words of advice. "They didn't discount me because I was the smartest one in the room," she recalls. "I knew my financial statement inside and out. I knew the business. I understood the math of it." Rita and Rick were the only single dealers at the conference, so they sat side by side at breakfast and lunch, and when wives joined their husbands at dinner. Rita quickly realized that they shared a drive to be the best.
"It was pretty much love at first sight," Rita says. "He was so energetic. He was so enthusiastic about being great. He would say, 'I'm going to be the No. 1 volume dealer in the world' and I would be over here saying, 'I want to be a great dealer, too.' "That was the attraction." After the meetings, they kept in touch, exchanging ideas and the usual starts and stops of running businesses. In 1979, Rita invited Rick to spend time with her in California. If you're imagining a Hallmark Channel script of picnicking in the park and strolling hand-in-hand as the sun sets over the lapping waves of the Pacific Ocean, think again. Gearheads will be gearheads, so Rita and Rick set off on motorcycles to visit Honda dealerships up the Pacific Coast, and on to Portland and Seattle. Despite the exhausting itinerary and a chaperone—Rita's father insisted a third wheel accompany the fledgling couple, so a dealer friend of Rick's tagged along—"We fell in love on that trip," Rita says.
The next year they married. Rita handed back the family dealership to her parents and joined Rick in Ohio. By then, he had reached celebrity status in Cleveland and Akron, partly because of his successful Honda auto and motorcycle dealerships but more through creative, some might say, crazy, advertising gimmicks. Rick promised to buy back your car if it didn't get 50 miles per gallon. Bring you a tire if you had a flat. He leaped off the roof of a dealership (and into a cushion below), and got motorcycle daredevil Evel Knievel to jump 10 Mack trucks at a Memorial Day promotional event. (Knievel then hired Case as a promoter, including for his infamous Snake River Canyon rocket-powered jump in 1974.) Meanwhile, for Rita Case, D.D. was now D.W.—dealer's wife. "It was burning inside of me," she says. "What am I going to do to be noticed? I am not just Rick's wife. I am his business partner, and we're married, and I want you all to see me as his business partner, not as cooking his oatmeal in the morning. I had to do something different."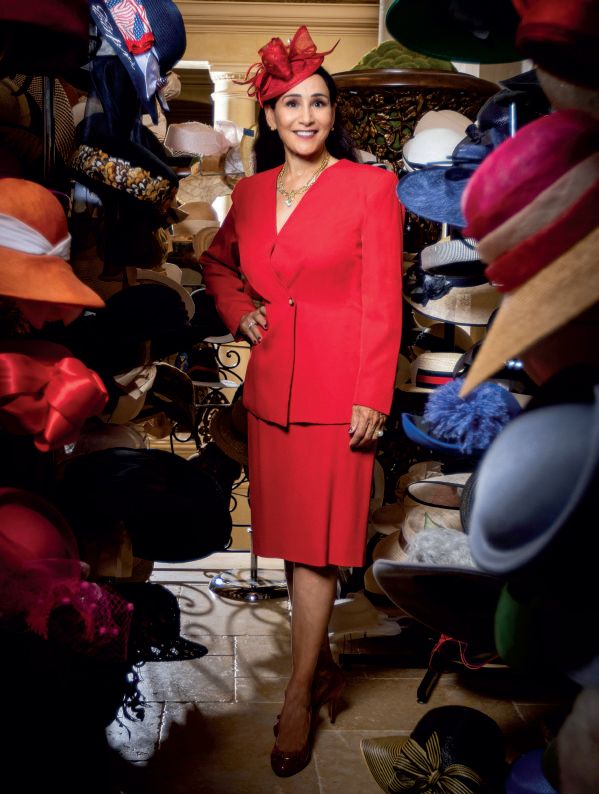 Heady Times
Settling into her new home during an Ohio winter, Rita went to the mall seeking cold-weather outfits. She was sticking with her business suits, but this California girl needed heavier material for the harsh Ohio winters. She noticed a rack of hats, tried some on, and a fashion statement was born. "It was so classy looking," Rita says, "and I thought, 'This is going to be my brand.' I wanted to stand out, show that I had confidence and was my own person. I wanted people to recognize me as Rita Case instead of Rick Case's wife."
Since then, she hasn't looked back without a distinctive lid perched atop her head. "I wear them to black-tie events. I have cocktail party hats. I'm always switching up," she says. "Pill box for meeting with bankers. Hats with parrots for fun. Formal hats. Hats with bows, ribbons, brims." Her most flamboyant and expensive hat? A $380 creation featuring aqua peacock feathers worn for a party to celebrate the late Wayne Huizenga's first game as owner of the Miami Dolphins. Rita will sometimes invoke her hat game in her ongoing mission to empower women, throwing down a chapeau gauntlet to make a point. "I'll say, 'You don't think a hat looks good on you? I say you won't wear a hat because you don't want to stand out. Once you decide that you want to be the one who everyone is looking at in the room, you'll start to wear hats.' A very tailored business suit with a classy look always stands out in a room. But a hat just finishes it. "You can't be the best if you don't have the most confidence and the best work ethic." Rita won over her husband's Ohio team of men with more than her hats. She told them that she'd run the ''back end" of their businesses, dealer slang for parts and services, and allow them to focus on the sexier side—the "front end," or showroom sales.
"I took over parts and services," she says. "Me and my hat, business suit and my pumps walking through the service department. That's how I earned respect from his group of people." In 1985, Hyundai was looking to launch in the United States and Honda was adding Acura to its lineup. Considering growth and demographic diversity, the Cases saw opportunity for both brands in South Florida and Atlanta and moved south to open dealerships, setting up headquarters in Fort Lauderdale. Rick Case Automotive Group continues to make its mark in the auto industry with highest sales volume performances and, perhaps more important, operations honors covering service, facilities and employee training. Charitable work is a longtime passion for the Case family and company, leading with the Boys & Girls Clubs of Broward County and the American Heart Association. The Rick Case Habitat Community is the largest affordable housing project in Broward County.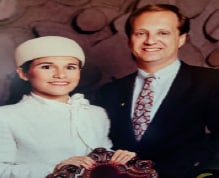 LOVE AT FIRST SIGHT: Rita and Rick in 1980, their first year of marriage

The Show Must Go On
In December of 2019, Rick, who never smoked, rarely drank and generally was in good health, suddenly was struggling to breathe. Scans and X-rays revealed spots on his lungs and doctors quickly determined that a rare cancer already had advanced to his brain and diaphragm. The diagnosis was grim; treatments would only hold off the inevitable. Rick told Rita he wanted no one to know about his condition, including their son, Ryan, and daughter, Raquel.
"He was unbelievably brave," Rita says. "Rick was always so positive. He did not want anyone worrying about him. He didn't think that would be productive. He thought it would be draining. He thought it would be negative. "The man was a machine." In April 2020, Rita and Rick decided to retreat to their vacation home in northern Idaho. "OK," Rick said, "this is my last chapter. I'm putting my book on the shelf. Let's talk about how this is going to go down." Rita says his only wish for her was that she be happy. "I told him, 'You don't have to worry about the business. Your name will not be sold. We are going to continue the quest. He said, 'That's great. You can do it.' "He always knew I could do it."
Rita and Rick worked remotely from Idaho until he got sicker later that summer. They called Ryan to tell him about the cancer. Worried that Raquel wouldn't take the news well over the phone, they asked her to fly out for a visit and told her in person. Rick died a few weeks later at the Hillsboro Beach home where they lived since 1985. He was 77. "His legacy will always live on," Rita says. "No matter how much time it takes for me, Rick Case, the car dealer, will be the No. 1 car dealer in the United States as long as I'm able to keep us there." Still, she knew that Rick's marketing genius was a void and a talent not in her tool kit. She would need others to create the strategies necessary to consistently draw customers. Less than two months after Rick's death, Rita gathered general managers in the corporate office conference room and did exactly what she had done at the 20 Group meeting decades earlier—ask for help.
"When Rick was alive, it was the Rick and Rita show. Period," she says. "We did everything, and we delegated down and we dictated. When he passed away I knew I was going to make a big change. I was going to rely on our associates to have more responsibility, more decisionmaking, more independence as far as the daily operations." At the GM meeting, she began by sliding a blank piece of paper to the center of the table. "I said, 'We're going to sit here together and figure out our marketing plan. It's not going to be Rita's plan. It's not going to be what Rick told Rita for the last 40 years. It's going to be your plan. Because guys, without Rick, I'm going to count on you to sell the cars.'" Two years later, Rita Case isn't exactly on cruise control, but she is happy and having fun. She's up early to watch the sunrise over the ocean. Her days are meticulously planned to maximize every hour and ounce of her boundless energy. Her charity work is in maximum overdrive. She pilots employees to dealer meetings and conferences several times a month in her personal jet. And she carves out "Mimi" time with her three grandchildren. Last April, she was one of 16 recipients of the 2022 Horatio Alger Award saluting perseverance, integrity and commitment to excellence. Rita recalls an afternoon during that emotional summer at their Idaho home, Rick was grinding away at his desk in his lake-view office. His days were winding down like a foreboding hourglass. Rita appeared, at a loss with how to provide comfort. "What can I do?" she said. "What would make you the happiest?" Rick smiled and looked up from his computer screen. "Nothing in the world has ever made me happier than being with you." Rita wipes away tears at the cherished memory.